Def Leppard sponsor Rhiwbina rugby under-10s in Cardiff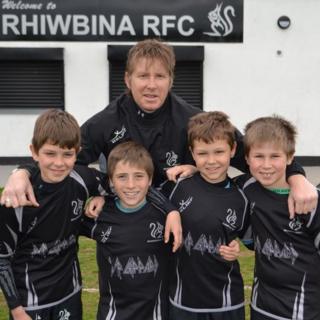 A mini rugby team from Cardiff can claim the loudest shirt in the country, thanks to sponsorship by veteran rock band Def Leppard.
Rhiwbina under-10s teamed with the band through one of their coaches, Richard Proctor, who does artwork for them.
Rhiwbina, nicknamed The Squirrels, are predictably nuts about their jerseys sporting a logo which has won admiring glances from opponents.
The band love it too and have signed a shirt for the team to put on display.
Lead singer Joe Elliott said he was delighted to sponsor the team "because Richard is a long-time friend of mine and he works closely with the band".
'Look cool'
"When he told me he needed a sponsor, I jumped at the chance, only afterwards did I realise it was a rugby and not a footy team!" he added.
The band, from Sheffield, are big football fans and follow the teams of their home city, Sheffield Wednesday and Sheffield United, but are less familiar with rugby.
But Elliott is more than happy with how it turned out.
"Like all things with our logo on it, I think it looks spectacular," he said.
"I'm not sure it's going to guarantee a winning team every week though, but at least they will look cool."
When the rockers wrote one of their most famous hits, Animal, it was probably not Squirrels they had in mind - but the partnership has turned heads.
Rival teams have done a double take when they have spotted the famous logo on the Rhiwbina jerseys.
Mr Proctor - whose son Lucas, nine, plays for the team - said: "They don't take it seriously - they don't believe it.
"They'll say, 'that can't be right - what, THE Def Leppard?' We do get a few sideways glances. Even if we lose we still think we look the best!"
Mr Proctor, a long-time friend of Def Leppard's Rhondda-born tour manager Malvin Mortimer, has recently returned from Las Vegas with the band.
"I was working with the video team and filming and shooting bits for the website," he said.
"I took one of the jerseys out with me and got them to sign it. We want to get it framed and put it in the clubhouse."
He hopes that next time the band tour the UK, there could be a treat in store for the youngsters in the rugby team.
"When they're on a UK tour, they normally play the Cardiff arena," he said.
"The next time that happens we will take the boys out to meet the guys and get photos. They're very responsive to all that."
Def Leppard formed in 1977 and have sold 100 million records worldwide.
Perhaps their best known album is Hysteria, released in 1987, which topped the US and UK album charts and has sold over 20 million copies.