Asbestos: Cwmcarn school £1m repairs and temporary classrooms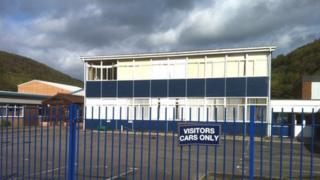 Around £1m is to be spent on a school which shut suddenly after a report said pupils were at risk from asbestos.
Caerphilly councillors have agreed the asbestos removal work and temporary classrooms at Cwmcarn High School.
A special meeting heard the move could see its 900 pupils return to the site for the new school year in September.
Students have been taught 12 miles (19km) away at Coleg Gwent's Ebbw Vale campus since the school shut in October 2012, prompting protests from parents.
In February hundreds of people marched through Cwmcarn calling for the school to reopen.
The governors and head teacher had called for the school to be reopened "at the earliest opportunity".
At the meeting on Wednesday, councillors approved a plan to spend £300,000 on placing temporary classrooms on the site and £700,000 on asbestos removal and making the buildings safe to occupy.
Contractors have advised the local authority that the work could be completed in time for the school to be reoccupied in September 2013.
The total cost is estimated at £1.05m.
Judicial review
It was one of two options recommended for serious consideration.
The other would have involved sending Years 7 to 9 to Risca Community Comprehensive, Years 10 and 11 to Pontllanfraith Comprehensive and sixth formers to Coleg Gwent while the council made a decision on the future of schools in the county.
This option would have cost £300,000 but was discounted because of the potential disruptive effect it would have had on pupils.
The council says it would also have opened them up to legal challenges by way of judicial review, which may affect future decisions on potential school closures in the area, under the 21st Century Schools programme.
Cwmcarn High School closed after a council-commissioned report found that asbestos posed a potential health risk.
But in February this year a Health and Safety Executive report said the site was essentially free of asbestos contamination.
Another report in March found there was little difference between the two documents, apart from the conclusions.
The planned work will not address non-statutory maintenance or upgrade the school.