Writer Elaine Morgan, 92, granted freedom of Rhondda Cynon Taf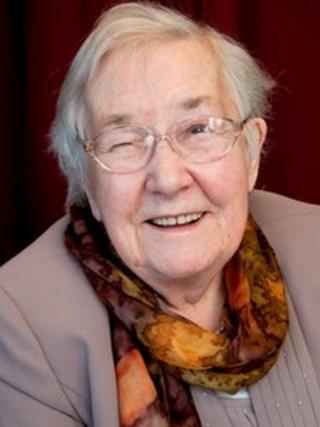 One of Wales' leading writers has been honoured by the south Wales valleys borough where she has lived most of her life.
Elaine Morgan, 92, has been made an honorary freeman of Rhondda Cynon Taf.
Dr Morgan's long and varied life has encompassed experience as an author, TV writer, lecturer, scientific rebel and even a feminist icon.
She said to receive the honour "in her beloved Wales" was very special indeed, although she hated any fuss.
Dr Morgan only retired at the start of 2013 from writing a weekly column for the Western Mail after suffering ill health in 2012.
Born in Hopkinstown, Pontypridd, she was a coal miner's daughter.
The family later moved to Mountain Ash where Dr Morgan still lives in the family home.
After studying at Oxford, where she graduated in English, she married Morien Morgan in 1945 and had three sons.
Her long career in writing began in the 1950s after she won a competition. She later joined the BBC and began writing television dramas.
In the 1970s Dr Morgan changed direction, taking on the scientific establishment with a new theory of human evolution.
Her book The Descent of Woman became an international bestseller, turning her into a feminist hero who toured the US three times.
She went on to devote her attention increasingly to the subject of human origins.
Rhondda Cynon Taf mayor Doug Williams presented the award - the freedom of the county borough - to Dr Morgan at a ceremony at the council headquarters in Clydach Vale.
He said: "I am delighted this honour has been bestowed upon such an incredibly talented lady.
"The people of Mountain Ash, and indeed the whole of Rhondda Cynon Taf and south Wales, are so proud of what Elaine Morgan has achieved.
"Her work is known the world over and I am honoured to present her with the Freedom of the County Borough."
Dr Morgan said: "I have achieved so much during my lifetime, but to be honoured with the Freedom of the County Borough in my beloved Wales is something very special indeed.
"I come from a working class background in the south Wales valleys, and this has helped me in my writings over the years.
"Although my health is no longer what it was, I cannot thank Rhondda Cynon Taf council enough for bestowing this great honour upon me, although those people who really know me know that I hate any fuss."
Opera singer Stuart Burrows, from Cilfynydd, is the only other individual to be granted the freedom of Rhondda Cynon Taf, although the Royal Welsh Regiment is among the organisations to have been honoured.