Seda's 70 jobs as packaging firm expands at Blackwood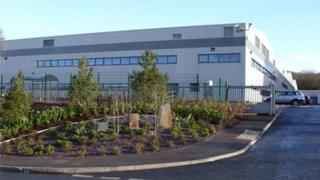 A company which manufactures a range of food industry packaging says it is creating 70 jobs and safeguarding another 170 at its plant in the south Wales valleys.
Seda, which moved to Wales in 2004, is investing £18m in Blackwood over the next five years.
The Welsh government is supporting the firm with £5.4m of business finance.
Seda UK, a subsidiary of a family-owned Italian firm, says it is a world leader in ice-cream and food packaging.
The company said it had seen year-on-year sustained growth since it relocated in Wales.
The Blackwood plant produces a range of paper cups, containers and plastic lids for hot and cold drinks and dairy products, as well as folding cartons.
"We have seen growth in all business areas and this project is particularly important to meet existing and future contracts," said managing director Lorenzo Angelucci.
Mr Angelucci said the the project would consolidate Seda Group's long-term commitment to Wales.
Spin-off benefits
He added that the firm had a policy of sourcing locally wherever possible and, as a result, this expansion would create spin-off benefits for the local economy.
Economy Minister Edwina Hart said Seda UK had been in competition with other European sites for the investment.
"Seda has continued to invest and expand in Wales with support from the Welsh government since it moved here in 2004," said the minister.
"It employed 278 at the time of this grant application at its site in Hawtin Park, making a significant contribution to the local economy.
"This new project will safeguard and create a significant number of jobs over the next five years."
The Seda Group, established in Naples, Italy in 1964, has 12 manufacturing plants worldwide. It said its clients include the major blue chip operators in the food service and vending market.