Cardiff and Vale NHS weight loss plan for operations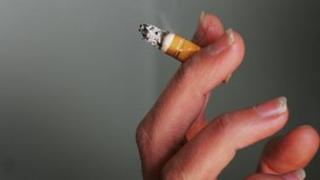 Obese people will have to complete weight loss programmes before they can have operations, if proposals by a Welsh health board are approved.
Cardiff and Vale University Health Board also says requiring smokers to go on courses to help them give up before surgery may save over £400,000.
It would not apply to cancer patients or people needing emergency treatment.
The board would have to cut costs by £90m to break even in the next financial year.
Welsh Conservatives said it showed the NHS "needs an urgent transfusion of cash".
Members of the health board will be asked to approve measures to address "lifestyle risk factors" at a meeting next Thursday, 28 March.
Any smokers must have been offered, accepted and completed smoking cessation programmes before they can be listed for elective surgery.
The move would save an estimated £41,941 to £437,650 a year.
Around 23% of the population of Cardiff and the Vale of Glamorgan are smokers. Between 10% and 30% are likely to quit if they had smoking cessation support before surgery, the board says.
Similarly, anyone with a body-mass index of at least 40 would have to accept and complete weight management support before they are listed.
That could include being referred by a doctor to an exercise scheme.
Papers for the meeting say obese patients are almost 12 times more likely to suffer complications after an operation and around half are thought to have poor outcomes after having joints replaced.
Elective surgery is a non-emergency procedure that is planned in advance.
The NHS in other parts of the UK has introduced similar requirements for obese patients and smokers.
Other papers for the board say that it would have to cut costs by £90m, or 9%, if it is to break even in 2013/14.
Andrew RT Davies, Tory leader in the assembly, said: "Whilst the increased availability of courses for smoking and obesity is to be welcomed, I am concerned that failure to participate in these will be used as an excuse to delay operations for patients in need of treatment.
"The health board must give assurances that this will not be the case."