Torfaen education authority faces special measures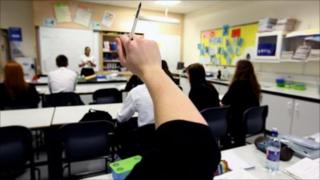 A sixth Welsh local education authority has fallen foul of school inspector Estyn, and faces special measures.
The education watchdog says Torfaen council has not delivered enough improvement after a critical inspection in 2011.
The Welsh government will now be asked to respond to the recommendation, which could see education responsibilities removed from the council.
Torfaen said Estyn recognised it had improved, but the council apologised.
Five other Welsh councils have previously been singled out by Estyn.
In February, Monmouthshire and Merthyr Tydfil authorities faced a similar recommendation, following Anglesey, Blaenau Gwent and Pembrokeshire.
The decision follows an inspection at Torfaen 18 months ago, where serious failings were highlighted.
Estyn found that standards were well below what was expected, with an overall judgement of "unsatisfactory" - the lowest rating given.
The inspection said that Torfaen council needed to raise standards in secondary schools and do more for school leavers who do not go on to find jobs or training.
In particular, the authority came in for criticism for standards at GCSE level in schools across the county.
The report said that over half of schools are in the bottom quarter for performance in the core subjects of English or Welsh, maths and science.
No school is above average on the proportion of pupils achieving the equivalent of five GCSEs at grade A* to C.
'Deep enough'
But following a monitoring visit in February, Estyn has now referred the matter to the Welsh government.
Torfaen council leader Bob Wellington told BBC Radio Wales they accepted the report's findings and were prepared to work with whoever was appointed to help the authority.
"Patently it hasn't improved enough and it hasn't gone deep enough, or indeed, been fast enough," he said.
"We don't accept that we didn't make any improvements. In, fact we consider that we had made improvements.
"A lot of people have put a lot of effort in to this, certainly at a managerial level and other levels.
"I think we've done everything we can to try and improve, but we recognise that we need external assistance in the same way that the other local authorities that are in the same place are receiving now."
The council said it believed that the building blocks for improvement were in place, adding: "Better teaching, better schools and better results are starting to be delivered.
'Deeply concerned'
"We've seen improvement at GCSE and A-level, secured the next phase of investment in new school buildings, we are sharing expertise between schools, improving the level of regional expertise available to schools and we're supporting and challenging the performance of our secondary schools like never before."
Torfaen AM Lynne Neagle said she was deeply concerned and disappointed.
She said: "The quality of local children's education is absolutely paramount and the shortcomings identified by Estyn need to be urgently addressed.
"Having spoken to the council, I'm confident that they are fully committed to working with the Welsh government to take whatever action is necessary to turn things around. I will be monitoring the situation every step of the way."