South Wales Police tweet on Six Nations and Swans games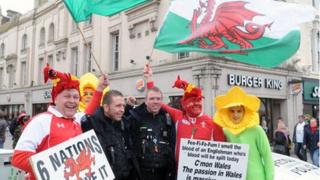 South Wales Police officers have taken to Twitter to show the public the work they do on some of their busiest days.
Police are dealing with crowds for the Six Nations decider in Cardiff between Wales and England and at Swansea City's home game against Arsenal.
But officers elsewhere in the police force area are also being filmed, with the videos posted online and on Twitter under the tag #supersaturday.
A spokesman said: "It is to show that we also have to police normal things."
South Wales Police say 20,000 people follow their Twitter account, @swpolice, and some 7,000 people follow them on Facebook.
The behind-the-scenes project aims to boost those numbers by posting fly-on-the-wall type videos and interviews with key staff.
The force said previous international rugby days had proven to rival New Year's Eve in terms of the number of calls from the public.
Assistant chief constable Matt Jukes said: "Social media is already transforming the way in which we communicate as a police force.
"By building on this following our operation on #supersaturday will allow us to engage positively and reach many more people than would ever have been possible otherwise."
Interviews lined up include the inspector in charge of all the police overseeing the rugby crowds in Cardiff and the officer in charge of planning the police operation at Swansea's Liberty Stadium.
A spokesman said a number of frontline officers, including helicopter crews, had been encouraged to tweet on the day.
Match ball
He said: "We haven't planned everything: it's to make it as realistic as possible."
The rugby is drawing 74,000 fans to Cardiff's Millennium Stadium with many coming by train.
Meanwhile, a BBC Wales season of trailers to highlight the match reached its conclusion on Saturday when the match ball was brought on to the pitch by the 10-year-old boy who stars in them.
Nathan Blackmore-Davies, plays Scott, a Welsh fan who is on a mission to rally Wales behind the Welsh team.
BBC Wales head of creative services Phil Higginson said before the game: "For the campaign to reach its conclusion with Nathan bringing on the match ball is the icing on the cake and I'm certain that Scott's reaction to being in the stadium just before kick-off won't require much acting from our young star."