Asbestos: Cwmcarn school governors say closure 'unnecessary'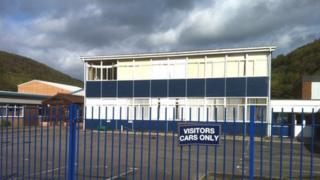 The governors and headteacher of a school which closed amid warnings of asbestos have called for it to reopen.
Cwmcarn High School, in Caerphilly county, shut in October after a report said its 900 pupils were at risk.
Its governors and head say the report "overstated" the health risks and claim the school's closure was "unnecessary and inappropriate".
Caerphilly council said it did not own the site and governors were responsible for the safety of those using it.
Last month, hundreds of people marched through Cwmcarn calling for the school to reopen.
Students are currently being educated 12 miles (19km) away at Coleg Gwent's Ebbw Vale campus.
The governors and headteacher said their lengthy statement aimed to "set the record straight" over the report by the specialist contractor Santia which prompted the school's closure.
It said: "Both our independent report and the [Health and Safety Executive-commissioned] report have raised questions over the method of testing used by Santia and the basis on which their conclusions were drawn."
They said it had been known since the 1990s that the asbestos was in the school's roof but this had not stopped the council carrying out work over the years.
"We do not know the reasons why the council chose to treat Cwmcarn differently from the other schools in the area where the removal of the asbestos took place with the school in situ," the statement said.
The governors and head teacher denied any blame for delay in work to seal or remove the asbestos.
They insisted they wanted to work in partnership with the council to resolve the asbestos issue, but said "this is proving difficult to achieve in all of the circumstances".
Caerphilly council said: "The council does not own the premises at Cwmcarn.
"The fact remains, governors own the site and are responsible for maintenance of the premises as duty holder.
"The governors are legally responsible for the health and safety of the staff they employ at the school and the day-to-day health and safety of children within the premises, as well as contractors and visitors working on/or attending the school site."