Asbestos campaign backed by man after wife's cancer death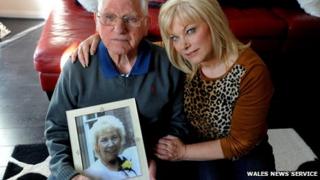 A retired painter whose wife died from cancer caused by washing his overalls for 20 years is backing a campaign for more awareness of asbestos.
Eric Ward's wife Valerie died at the age of 78 after being diagnosed with asbestos-related mesothelioma.
Mr Ward, 85, had worked at Aberthaw power station in the Vale of Glamorgan in the 70s and 80s, where he came into daily contact with asbestos fibres.
Compensation over his wife's death has been donated to a hospice.
"When you think about it, you killed your wife by bringing stuff home that you shouldn't have done," said Mr Ward.
Speaking to BBC Radio Wales, he explained how wife Valerie would wash his dust-covered overalls every week - unaware of the dangers hidden in the clothing.
He said that working as a fitter's mate at Aberthaw would mean removing lagging from pipes, showering him in asbestos dust.
At the end of the day, the dirty overalls would be bagged up and taken home to be cleaned.
"We had no protection at all. We would just go down there and do the job. We knew that it was lagging and that was it," recalled Mr Ward.
"The wife would do all the washing, she would shake the overalls out and then put it in the washing machine."
Mr Ward's daughter, Avril added: "Probably, we were all exposed to it. At the end of the day it was routine - something that my mother did.
"We were unaware of any of the dangers."
Her mother developed symptoms of breathlessness about four years ago, but it was not until 2010 that mesothelioma was diagnosed.
The disease is directly caused by exposure to asbestos.
Mrs Ward died within ten weeks of the news.
"My missus got really upset over it, because in her opinion, she shouldn't have had it in the first place," said Mr Ward.
"I should have had it - not my wife. It should have been me."
Earlier this year, an inquest into her death recorded a verdict of death by industrial disease.
The family received compensation which they have donated to the the Marie Curie Cancer Care charity which treated Mrs Ward at its hospice in Penarth.