Meteorite chunk from Russia found by Cardiff scientist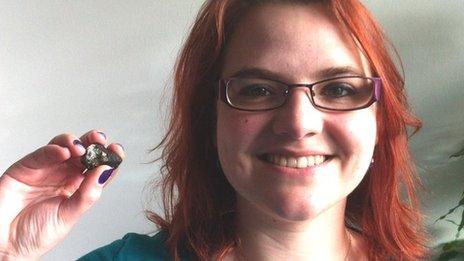 A Cardiff University scientist has brought home a chunk of the meteor which landed in Russia last month.
The rock injured hundreds of people and caused major damage when it broke up on entry into the upper atmosphere.
But it also sparked astronomy fever with people from around the world heading there to look for fragments.
Research astronomer Elizabeth Pearson found a piece after a five day search, saying: "We haven't had a big meteorite strike like this since about 1908."
She spoke to BBC Radio Wales about her mission after returning to Cardiff.
"It was quite difficult. To find the bigger bits takes a lot of time and a lot of searching.
"But the smaller bits you can find pretty quickly, you just need to find the right sort of area.
"Most of the easy-to-get-to areas have been picked pretty clean by the time we got there."
The meteor struck last month injuring 1,200 people, including 200 children, mostly by shattered glass.
The shockwave damaged an estimated 200,000 sq m (50 acres) of windows and Russian officials put the cost of the damage at about 1bn roubles (£22m).
Dramatic pictures were posted on the internet of an object streaking across the sky and hitting the earth.
Eyewitnesses said it felt like a war zone and lasted about 20 to 30 minutes.
"Most of them thought it was a missile going off or a war had started," said Ms Pearson.
"They were all pretty scared until they found out what was going on."
She said while she was searching, local people were continuing to look for fragments.
"They went out and searched every day and were making lots of money," she added.
Ms Pearson said that for a scientist, the most exciting part was the fact it had been filmed.
"It's partly because it's a big meteor so there's lots of meteorites - so there's lots of stuff we can look at," she said.
"But it's the fact that it's been filmed coming in because that's the first time this has really happened on this scale.
"We haven't had a big meteorite strike like this since about 1908 when there was one in the same sort of region but obviously that was before we had dash [board] cams everywhere."
Related Internet Links
The BBC is not responsible for the content of external sites.