Cardiff sport clubs' anger as pitch fees rise up to 193%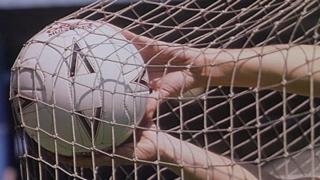 Amateur sport clubs have criticised Cardiff council as fees for pitches and changing rooms rise by up to 193%.
Hiring a football pitch and changing room will rise from £38 to £55 per game while the cost of rugby pitches will almost treble from £20.50 to £60.
Sunday footballer Mike Inker said: "It's just going to push half of these clubs out of existence."
The council said it considered its fees "competitive compared with private alternatives".
The price rises agreed at a full council meeting kick in from 1 April.
There is no increase in costs for youth sporting teams but Mr Inker, who is organising a protest petition, described the rises for adult teams as "excessive, particularly in light of the facilities we get".
"We have pitches that are sub-standard. The changing rooms are diabolical. If anything, there should be a decrease in the charges.
"The size of the increase - it's 44% - is pretty tough to take."
He plays in the Lazarou Cardiff Sunday Football League, which has 49 teams and 700 players.
"It's only the home team have to pay the subs, and on top of that they have to pay the ref. It's all just purely from subs.
"Some of us are lucky enough to have sponsorship from a hotel or pub or something. But we have to buy kit, nets, balls, etc, from that same pot.
Cricket clubs face fees for hiring a pitch and changing facilities rising from £26.80 to £55
Paul O'Sullivan, secretary of Cardiff Midweek League Cricket which has three 11-team leagues. said: "We've been going since 1922 but we've got a league AGM on Monday and I wouldn't be surprised if we folded.
"I think it will be the death of park sport in Cardiff. I wish my wages had gone up that much.
"We don't just play one game a week, we play twice week. You would have to increase the subs two-and-a-half times - it's not just the pitches you pay for it's the umpires as well.
"People are not going to pay that.
"We want youngsters in more sport in this country. They are going the wrong way about it."
'Reasonable cost per head'
A Cardiff Council spokesperson said: "Proposing the 2013-2014 budget has been extremely difficult as the council face steeper cuts than ever before which means some difficult decisions need to be taken to ensure that our frontline services, such as schools and social services, are protected.
"The council has examined the subsidy per head for outdoor sport and in order to help protect other services in the long term, the cost for use of football pitches has been recalculated based on 22 players paying £2.50 per head.
The spokesperson said the cost per head to play football has been benchmarked against other similar sized local authority provision, and found to be reasonable.
"The fees and charges for children and youth clubs has already been removed by the administration, with the aim of helping clubs grow and improving grass roots sport provision.
"The council is actively working with clubs to provide support and advice to upgrade club facilities."