South Wales Police: Valentine meal fleeing couple sought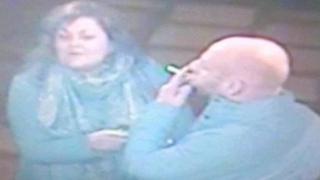 Police have released CCTV images in a bid to trace a couple they say left a restaurant without paying following a Valentine's Day meal.
After dinner at the Bengal Lounge in Kenfig Hill, Bridgend, they went for a cigarette outside before making off without paying, officers said.
The man is described as white, about 40 years old with a beard and the woman is possibly younger and of large build.
Bengal Lounge owner Salam Uddin said their meal and wine cost £62.
"They had two main dishes and two bottles of pinot grigio wine, then said they were going out for a cigarette at about 9.15pm," said Mr Uddin, whose restaurant has been open for two years.
"But they didn't come back and I felt terrible. We were busy as it was Valentine's night and we'd put a lot of work into preparing everything.
"I felt it was very rude."
The restaurant's CCTV camera captured images of they couple as they smoked outside and Mr Uddin hopes it helps police trace the pair.
PC Marc Aitkin, of South Wales Police, appealed for information to identify the couple.
"This type of behaviour will not be tolerated," he said.
"It is not a way to treat local businesses which are there to provide us all with an enjoyable service."
Anyone with information concerning the identity of these people or the couple themselves is asked to contact PC Aitkin at Porthcawl police station on 101 or Crimestoppers on 0800 555111 quoting reference 62130046897.