Abergavenny livestock market campaign abandoned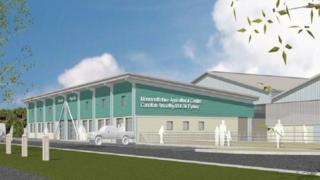 Campaigners trying to prevent Abergavenny's 150 year-old livestock market closing and moving out of the town have finally given up.
Members of Keep Abergavenny Livestock Market (Kalm) said they would no longer challenge legal decisions which mean moving the market 10 miles (16km) away.
Monmouthshire council welcomed the decision.
Construction of the new £5m market near Raglan should be completed this summer and it will open in the autumn.
Kalm had been intending to make further legal challenges, but it finally admitted it had taken the legal battle as far as it could.
It thanking the hundreds who have taken part in the campaign.
Last year campaigners lost two judicial reviews in their fight to retain the historic 1860s market.
One was over planning permission and the second was over the repeal of part of a historic act which required the council to hold the market in the town.
Kalm had argued Welsh ministers scrapped this legislation illegally.
But, abandoning their fight to retain the market this week, campaigners urged the council and the supermarket to enter into discussions with concerned groups to improve the site's design.
They said there were no more practical ways to prevent the council going ahead.
They also said they remain committed to working with anyone who wishes to see the town grow and prosper.
Bob Greenland, Monmouthshire's deputy leader and cabinet member responsible for regeneration, welcomed the news, "thus saving the council from any further waste of public funds defending democratically reached decisions".
'Legal right'
He added: "It is also of particular note that they wish to engage to ensure that we work together in future to help rejuvenate the town, despite the many pressures that Abergavenny, in common with other towns throughout Wales, is facing with changing shopping habits and reduced spending by consumers."
Project director Steve Greenslade said money from the Abergavenny site would finance regeneration, including a library with some left over to help with the provision of new schools.
"There would have been even more money left over for schools and the scheme would have been delivered much quicker but for the persistent legal actions taken outside of the democratic process: but that is the legal right of individuals and minority groups," he said.
Construction company Morgan Sindall is to build the new market at Bryngwyn near Raglan, on a 27-acre site and with 300 sheep pens and 150 cattle pens.
The council is also promising a smooth transition for farmers who use the livestock market.
Mr Greenland said: "The building work on the market should be complete by late summer, with a view to business transferring there in the autumn.
"At that point we will close the existing Abergavenny livestock market."