Cwmbran Stadium: Not-for-profit trust may benefit venue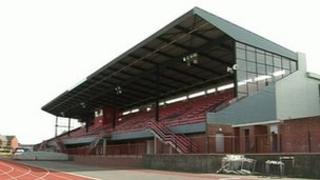 One of the top athletics coaches in Wales hopes a new trust to run leisure services in Torfaen will mean a better future for troubled Cwmbran Stadium.
The not-for-profit trust will be formed from volunteers to apply for alternative sources of funding, including lottery grants.
Darrell Maynard, who has coached Olympic and Paralympic champions, hopes the stadium can be kept going.
Its current poor condition means it has lost UK Athletics (UKA) accreditation.
The council says it will provide around £100,000 to set up the trust.
Darrell Maynard has coached some of Wales' most successful athletes, including 400m hurdle champion Dai Greene and Paralympic silver medallist Jenny McLoughlin.
He has been helping to coach up-and-coming sprinters at Cwmbran Stadium, but it has had its UK Athletics licence suspended.
"We could always go away from Cwmbran, but then the atmosphere goes, and the club could disband, and we need to keep working as a team to bring the new generation forward," he said.
"The athletes and often their parents expect a lot from the council - you pay your council tax and you want to get something back.
"There's always disappointment there, but money is tight nowadays and we're looking to keep that stadium up and running for the next generation, so hopefully it'll come through for the athletes and the general public."
Some of Torfaen's leisure services have seen a drop in visitor numbers in the last four years, according to a council report in 2012.
Cwmbran Stadium had 31% fewer visitors in 2012 compared to 2008, while Pontypool Active Living Centre saw a drop of 26% over the same period.
£5.6m revamp
Some sports club members had suggested that facilities suffered from a lack of investment, but plans to move to a not-for-profit trust appear to have been broadly welcomed.
Iain Jones, the chairman of Cwmbran Harrier athletics club, said it was a pity that it took the withdrawal of the licence for action to be taken, but was encouraged the council was looking into a solution to find new funding.
The stadium received a £5.6m revamp in 2002, but UKA decided to withdraw the stadium's licence as it said it was no longer safe.
Lewis Jones, deputy leader of Torfaen council, said: "Transferring leisure services to a non-profit distributing organisation (NPDO) is the best long-term option for the council.
"The new trust will protect this much-valued service from future budget cuts and ensure residents can continue to benefit from the high-quality leisure services we are very proud to deliver.
"Torfaen has a good track record of transferring services, with the successful housing stock transfer to Bron Afon bringing large-scale investment and improvements."