M4 south Wales: 11 hurt in four-car crash after hail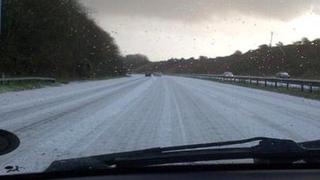 Eleven people have been injured after a four-car crash on the M4 in south Wales shortly after a hailstorm.
Emergency services were called to the eastbound carriageway between Margam, near Port Talbot, and Pyle, near Bridgend, after the alert was raised just after 12:30 GMT on Sunday.
Six people were taken to hospital, but none of the injuries are thought to be life-threatening.
Firefighters were then called to two other crashes nearby within 45 minutes.
Nobody was hurt in these two later crashes, when two cars left the road.
Initial reports from the emergency services said the first collision saw eight people hurt and five cars involved, but those figures were later updated to 11 casualties and four vehicles.
Slowed down to look
South Wales Fire and Rescue Service said they were called for help by colleagues from the Mid and West Service shortly after the area was hit by a large hailstorm.
South Wales Police said they received "multiple reports" of the first crash.
Traffic on the opposing westbound carriageway was also affected as drivers slowed down to look, they said.
In the second crash, about 20 minutes later, a car crashed down an embankment on the westbound side between Junction 34 at Miskin and Junction 35 at Pencoed.
The driver was out when emergency services arrived.
Then about 20 minutes after that police and fire crews were called to the westbound lane between Junction 36 at Sarn and Junction 37 at Pyle, where a car had gone in to trees.