St Alban's Primary, Cardiff: Troubled school inquiry call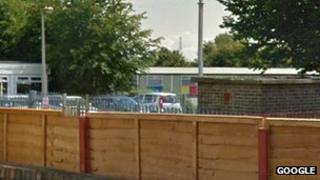 A consultant called in to review a school says it was the most troubled he has ever seen and wants an inquiry into its £1m spend over four years.
St Alban's RC Primary in Tremorfa, Cardiff, suffered long-term staff suspensions and disruption, prompting threats of legal action from parents.
Consultant Terry Mackie blamed "disastrous relationships," and an executive board took over.
Cardiff council said the school was now "moving in the right direction".
Four members of staff, including the deputy head teacher, were suspended in 2009.
Governors commissioned Mr Mackie of Empathi Cymru in 2010 to write a confidential review of the school's situation.
"Disastrous relationships were at the bottom of it," he told BBC News. "It was the most troubled school I had ever come across."
Mr Mackie is also concerned at a lack of early intervention by either the council's education department or the Archdiocese of Cardiff, which has the responsibility for appointing governors and staff.
He said there should be a review by the Wales Audit Office into how so much money was spent on a school, and also internal reviews by the council and the church authorities into management by those in senior positions.
"This was way beyond the skill set of governors," he said. "There should have been much more robust and prompt action by the archdiocese and the LEA (local education authority)."
An inspection by schools inspection body Estyn in 2011 found "systemic failures of leadership and management over a lengthy period" at St Alban's with both the current performance and prospects for improvement "unsatisfactory".
Special measures
It gave seven recommendations and said the school should be placed in special measures. The report led to the Welsh government and Cardiff council removing the governing body and appointing an interim executive board (IEB) for the first time in a Welsh school.
The council also appointed its director for people, Nick Jarman, to oversee progress at the school.
The head teacher Jane Vaterlaws had been suspended in 2011, and in 2012 she left her post. Other staff members were later reinstated.
Dr Martin Price was appointed chair of the IEB, and he said the situation had been fundamentally caused by "human resource issues" and the board's remit was to turn the school around.
It has been in place for nearly a year, and Dr Price said they had managed to resolve two of the seven recommendations and were in the process of appointing a permanent head teacher.
He said some issues, such as attendance, reflected the fact that the school was "not in a leafy suburb" and 50% of pupils were entitled to free school meals, but said improvements had still been made.
'Teaching has improved'
"Things are getting much better than they were. We have had a very good interim head teacher and the quality of teaching has improved.
"We have good staff in place and Estyn are recognising that they are making a difference to the pupils."
Estyn visits the school every term, and the most recent follow-up report in November said standards in maths, English, communication skills, IT and problem solving had improved at least in part, although the school has still not made sufficient progress against all the recommendations.
Cardiff council said: "The circumstances at St Alban's RC Primary School were complex, unprecedented and required extensive resources and support from both the council and the diocesan authority.
"Due to the scale of the difficulties and complexities faced at the school, it took a considerable amount of time to resolve."
Anne Robertson, director of schools for the Archdiocese of Cardiff, said it was an ongoing situation.
"I don't think it would be appropriate to comment on the money spent until the whole situation is resolved," she said.
However, she added: "I think at some stage it's sensible to look at what went wrong, what went right, things we could have done differently."