'Train surfing' at Maesteg and Garth prompts police action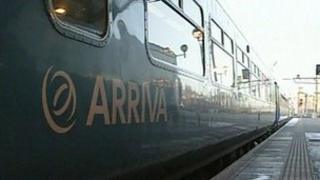 Children as young as seven have been seen trying to "train surf" in south Wales, British Transport Police say.
They warn youngsters are putting their lives at risk by trying to hold on to moving trains at Maesteg and Garth stations in Bridgend county.
Police have pledged to take action but say the stunt is so dangerous it should be enough of a deterrent.
In one incident children tried to surf off the side of a train as it pulled out of Maesteg rail station.
'Dangerous trend'
"It would only take a minor slip for them to fall between the train and the platform," said Sgt Steve Dawkins.
"I am extremely concerned that if this incredibly dangerous trend continues it is only a matter of time before someone is seriously injured or even killed."
Among the "worrying" incidents children aged between seven and 12 were reported to be attempting to hold on to the side of a train at Garth rail station.
"The railway is not a playground and should never be treated as such," said Sgt Dawkins.
"We simply will not tolerate any behaviour which puts lives at risk."
Witnesses are asked to call British Transport Police on 0800 40 50 40 or Crimestoppers anonymously on 0800 555 111.