Cardiff and Vale hospital patients face cigarette fines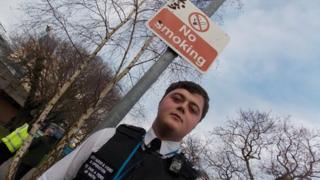 Wales' largest hospital will have enforcement officers targeting patients who drop cigarette butts.
Offenders could be fined £75 on the spot and will also be given anti-smoking information.
The Cardiff and Vale University Health Board says officers will patrol the University Hospital of Wales in Cardiff as well as University Hospital Llandough from Monday.
Keep Wales Tidy said it would like to join the health board's campaign.
Dr Sharon Hopkins, the health board's director of public health, said an agreement had been signed allowing the enforcement officers used by Cardiff and Vale of Glamorgan councils to patrol the sites.
She said enforcement action is the next stage of its policy of running smoke free sites.
Staff have been banned from smoking at the board's health care sites for nearly two years, said Dr Hopkins, and employing officers to enforce action against litterers and smokers was an important step.
Culture change
"Visitors are able to smoke in shelters in designated areas. Lots of people have said that is is very difficult to police this, to ensure that this happens and this is what we are trying to do.
"We want to make sure that people think about what they are doing, when they throw down their cigarette butts which make up the majority of the litter on the hospital sites."
Dr Hopkins said the enforcement action was also about achieving a culture change among the hundreds of thousands of patients who visit the hospitals each year.
Conversation
She said: "I suppose we're saying to patients we don't want you to smoke, we don't want you to drop your butts. And if you do then you may get a fine."
As well as issuing fines, the enforcement officers will also hand out health board information to offenders on how to give up smoking and where cessation clinics can be found.
The board currently spends about £15,000 a year on cleaning up litter, said Dr Hopkins.
Money collected in fines will go to the councils but the board is in talks about using any money collected for more anti-smoking services.
Sarah Philpott, campaign officer for Keep Wales Tidy, said: "Anything that works toward improving a) the environment and b) health is something that Keep Wales Tidy would support.
"Enforcement sometimes is the only way to tackle the problem caused by litter and especially cigarette butts although we would work towards complementing that with the educational and campaign work that we do, raising peoples' awareness about why littering is a bad thing for the environment and working with them to change behaviour and change attitudes."