Mabey Bridge wind turbine plant job cuts expected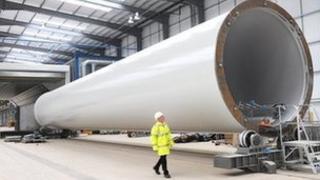 Workers at a Monmouthshire engineering firm which builds wind turbine towers have been told to expect job losses as a one-month consultation begins.
The Mabey Bridge factory at Newhouse Farm industrial estate in Chepstow currently employs 280 people.
A spokesperson for Mabey Bridge said a "small number of jobs may be affected".
The company said it regretted the decision but it was necessary in a sector affected by the economic downturn.
"As a family business, we very much regret this difficult decision," said the spokesperson.
"But with the UK manufacturing sector continuing to be significantly affected by the current economic downturn we need to take steps to ensure we remain a market leader in what is a competitive marketplace."