Aamir Siddiqi murder: Ben Hope questioned on his story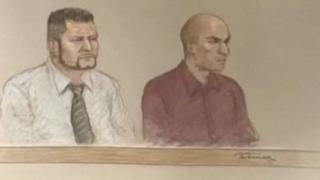 A prosecutor has questioned why a man accused of murdering a Cardiff teenager in a bungled contract killing did not give police a full account of that day.
Ben Hope said he did not say why he changed clothes at his co-defendant's home after he bled on them after using heroin and did not want police to know.
Patrick Harrington QC said he had told police he took heroin when arrested.
Mr Hope, 39, and Jason Richards, 38, deny murdering Aamir Siddiqi, 17, and attempted murder of his parents.
The trial has heard Mr Hope say he was in a "drugs stupor" at his co-accused's home in North Road, Cardiff, at the time Aamir was stabbed to death at his home in Roath by two masked assailants in April 2010.
He had told the court he had borrowed clothes that day from Mr Richards and left his old ones there because his arm had bled after injecting heroin and it had become smeared on his clothes when he had fallen asleep.
Cross-examining, Mr Harrington said: "You said you did not want police to know you had taken heroin that day." Mr Hope replied that he did not want police to know he was injecting.
Mr Harrington referred to Mr Hope's custody record which recorded the fact he injected heroin.
"So you do not want police to know you inject heroin, so you tell them you injected heroin. Where does that take us?" he asked.
The defendant replied: "I have no idea."
Mr Harrington said: "Your reason for changing clothes on 11 April [the day Aamir was attacked] was that you bled on them. Why not tell the police that?"
Mr Hope said he had decided to stick with "no comment" following legal advice. He had also said in evidence previously that Mr Richards had told him he "may have killed someone" the day after Aamir had been attacked.
Mr Harrington said Mr Hope must have been appalled when he learnt what his friend was referring to.
"When you were having a little doze at North Road, these vicious killers went out and slaughtered a wholly innocent 17-year-old boy.
'That is the co-killer'
"You were in a position to help police with their inquiries by telling them precisely what went on.
"You took a conscious, deliberate decision not to tell police that. Why?" asked Mr Harrington.
Mr Hope replied: "I told police what I knew, what I could remember happened on the day."
He again added that he had then decided to give a "no comment" interview following legal advice.
Referring to evidence that Mr Hope had given about taking off a while jacket while at Mr Richard's home on the morning of the attack, Mr Harrington said there was only a 10-minute gap between somebody seen arriving at North Road wearing the jacket and someone leaving it also wearing the jacket.
The barrister also referred to a CCTV clip of a Volvo in a Cardiff street an hour before Aamir was attacked, with a man in the passenger seat apparently wearing a white coat.
"Unless Jason has borrowed your coat that is the co-killer," Mr Harrington told Mr Hope.
He continued: "In the time you were asleep that man who had gone out to commit murder decided to borrow a nice, bright white coat with a distinctive stripe down it that he happened to find lying about in the bedroom of North Road?"
"Yes, that is what must have happened," replied Mr Hope.
Jason Richards had previously told the trial he was not one of two men seen leaving his house about an hour before Aamir was murdered, but alleged Mr Hope was one of them.
Aamir Siddiqi was fatally stabbed when he opened the door to two masked men at his home in Ninian Road, Cardiff.
His parents were also attacked as they tried to defend their son. The trial has heard Aamir was the victim of mistaken identity and that the killers went to the wrong house.
The trial continues.