E. coli: Adonis Kebab House, Cardiff, owner jailed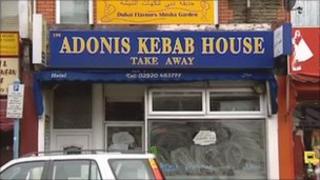 The owner of a Cardiff takeaway has been jailed for eight months following an outbreak of E. coli.
Diar Wali Ali admitted at Cardiff magistrates' court to 23 food hygiene offences and was jailed on Monday.
In August 2011, nine customers fell ill with food poisoning after visiting the Adonis Kebab House in City Road, Roath.
The takeaway was closed for two weeks while inspections were carried out and the council was satisfied the risks had been removed.
Councillor Derek Morgan, chair of Cardiff council's public protection committee, said people had a right to eat safe food and certain levels of hygiene.
"However, where poor hygiene practices and substandard conditions are found, we take immediate action to safeguard public health," he said.
"I hope this case helps to show how seriously we take this commitment and demonstrate that, where appropriate, we will use the full force of the law to ensure food safety regulations are met."