Urban yarn bombing: Knitted sign in Aelybryn, Pontypridd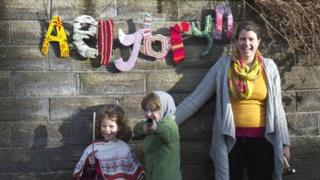 A valleys community has come up with an unusual way of replacing its long lost street sign by knitting a replacement.
Artist Catrin Doyle encouraged fellow residents of Aelybryn in Pontypridd to take part in what is known as urban yarn bombing.
It is where crocheting and knitting are used to produce pieces of art in public places.
Ms Doyle said her neighbours had been very supportive and the sign looks "fantastic".
"I had heard about urban yarn bombing in towns in England and I had wanted to do something similar," she said.
"I love knitting and unusual art so I thought, why not start with a knitted road sign because ours had fallen off about two years ago, and it's quite a hidden street in Pontypridd and not terribly easy to find.
"At the beginning of December, we cut out the letters from ply board and started to find the people in my street who wanted to help.
"Some of them had heard of urban yarn bombing and wanted to be part of it, and others thought it was a good fun thing to take part in."
Ground glass
The teaching assistant had soon distributed the letters to willing volunteers but kept one for her and her two children to do.
The letters were then decorated with everything from felt to ground glass before being given a knitted or crocheted cover.
The finished work, all from recycled materials, is now proudly displayed where the old street sign once was.
"The only reaction is that people have thought it was absolutely fabulous and a lovely community spirited idea," said Ms Doyle.
"Some were a bit bemused and said, 'what if it rains?' But it looks fantastic and is really colourful."
She expects the sign to last about a year, but said there was nothing stopping residents making another in the future.
"That's part of its purpose, to get it outside to the public. It's a shared piece," she said.