Dinas Powys collision: Husband and wife remain in hospital with serious injuries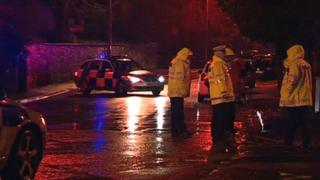 A husband and wife who were hit by a car while walking in Dinas Powys in the Vale of Glamorgan at the weekend are still in hospital, say South Wales Police.
The pair, aged 68 and 65, suffered serious but not life-threatening injuries in the incident on Millbrook Road on Saturday afternoon.
Their son, 29, who was walking with them, was not injured
They were hit by a red Seat Ibiza driven by a local man aged 21.
Officers are still appealing for information about the driver of a silver car which was seen travelling along Millbrook Road at the time.
South Wales Police are asking anyone with information to contact them on 01792 456999 ext 88331.