Simon Weston: Minor offences in youth should not bar people form public office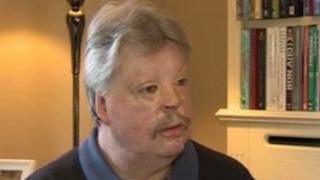 Falklands veteran Simon Weston has called for a law change so people who commit a minor offence as teenagers can still stand for public office later.
Before he pulled out of the race to become one of the new police commissioners Mr Weston was criticised because he had broken the law at 14.
He said there should be clearer guidelines in place.
"I want to see guidelines put in place so that every youngster understands them properly," he said.
As a teenager, Mr Weston was convicted and fined for being a passenger in a stolen car, a crime he now admits was wrong but he says back then he was a boy.
He was badly burnt during the Falklands conflict in 1982 but has gone on to forge a career as a charity worker, children's author and speaker.
Indiscretions
But despite a lifetime of public service when he decided to stand for the police and crime commissioner posts in south Wales last year he met criticism because of his teenage conviction.
Mr Weston withdrew from the contest, later won by former AM and MP Alun Michael, saying the campaign was too political.
In his case he said he was told by Home Secretary Teresa May that his conviction would not have barred him from standing.
But some candidates in England were forced to stand down over a minor offence committed during their formative years.
The Home Office said the legislation disqualified people from standing if convicted of an imprisonable offence, whether or not they themselves were sent to prison for that offence.
It was set with a cross-party agreement.
Mr Weston said real clarity is needed to prevent indiscretions and minor offences carried out in youth destroying people's chances for life.
'Fear for them'
"I've worked with young people in this country who have committed crimes," he said.
"But after six months they've never committed another crime and my fear for them is that it could come back to haunt them in later life and stop them achieving their goals, achieving their aims, their ambitions.
"If we don't do something about it we could lose an awful lot of talent, an awful lot of people who can contribute fantastically to the country and I just think that's wrong," he said.
"We can drink at 18, you can go to war at 18, you can drive a car at 17, have sex legally at 16, there are so many different age groups for different things.
"Let's have a real clear set of boundaries put in place and told to youngsters at school so that they understand, but also that the law understands as well and the records body understands for later on." he added.