Arrests as cigarettes and watches seized in Bridgend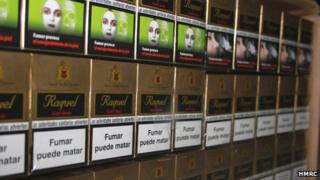 Customs officers have seized 500,000 allegedly smuggled cigarettes and hundreds of counterfeit watches in Bridgend.
Customs duty alone on the cigarettes would have been £100,000, said HM Revenue and Customs (HMRC).
The haul was discovered on Tuesday at a storage facility near the town centre, and £6,000 in cash was seized from a vehicle.
Two men have been arrested and released on bail as the investigation continues.
They were a 50-year-old man from Pencoed near Bridgend and a 57-year-old man from Birmingham.
HMRC said Sila and Raquel brand cigarettes were confiscated which cannot be sold legally in the UK.
Local trading standards officials are dealing with the counterfeit Ice watches.