Kitten shoplift: Women cautioned as Little Boy returned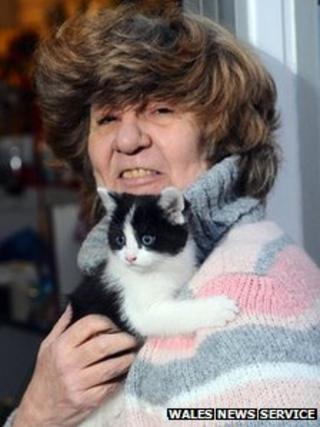 Two women have been cautioned by police investigating the theft of a kitten from a pet shop in Cardiff.
CCTV footage of the incident was released after Little Boy disappeared from Albany Pets in Roath.
South Wales Police said the local women aged 40 and 41 arrested on suspicion of commercial burglary received a caution after admitting the offence.
"It is nice to have a happy ending for once," said pet shop owner Carol Ivory after being reunited with the kitten.
She had been looking after the 10-week-old Little Boy and its mother for a friend who was away on holiday.
It was taken on Saturday from a kitchen at the back of the shop which is off limits to the public.
'All's well'
The shop's CCTV footage shows a group of people entering the shop and looking round.
A woman is then allegedly seen to take the kitten and gesture to her friend to give her a handbag before putting the kitten inside it.
Mrs Ivory was pleased to have Little Boy back.
"I was hugely relieved to see he was unharmed," she said.
"Little Boy is back with his mum and they are absolutely delighted to see each other.
"I could tell as soon as I picked him up that he had not lost any weight, although he ate a whole packet of his food as soon as I fed him.
"So all's well that ends well."