Man's skull smashed in 'English accent' attack claim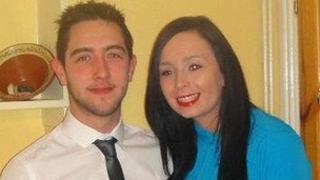 A man who was punched and kicked in an attack which led to part of his skull being removed claims he was the victim of anti-English prejudice.
Paul Meehan, 27, has released graphic pictures of his injuries after he says six men launched an unprovoked attack after hearing his Birmingham accent.
Doctors had to remove a five-inch lump of bone to try to stop infection spreading to his brain.
South Wales Police are investigating.
Pictures of Mr Meehan's smashed skull which were taken as he fought for his life in hospital have also been released.
One of the images shows Mr Meehan's taped up head with the words NO BONE, written by doctors.
It comes after electrician Mr Meehan was assaulted at a taxi rank while on a night out with his fiancee Laura Landeg, 22, and family members in the city centre on 28 October.
He was punched and kicked in the head and left lying in the street with several skull fractures.
He said: "It was an unprovoked attack. They heard my accent... it was nothing more than that.
"I've always had a good time in Cardiff but I've been out before when this sort of thing has happened to other people.
"It could have turned into a murder case quite easily which is scary to think about."
Mr Meehan was rushed to hospital for emergency surgery.
"They had to take a big section of skull away so I'm left with a squidgy bit on the side of my head," he said.
"Whoever did this has ruined my life. I'm not going being to be able to go back to being my old self.
"The people who did this probably haven't thought about it since. They probably don't know how far it's gone."
Ironically Mr Meehan, who was born in London, grew up in Cardiff and had a slight Welsh accent but lost it when he moved to Birmingham in his late teens.
As well as several skull fractures, he suffered bleeding to the brain and contracted an eye infection which spread to his blood.
He now has to wait six months to have a metal plate inserted into his head to replace his missing section of skull and is unable to work until then.
He is having regular neuro-rehabilitation at a Birmingham hospital.
South Wales Police are studying CCTV footage from the city centre to try to identify the assailants.
A spokeswoman said: "Assaults such as this will not be tolerated in Cardiff city centre and are always fully investigated."