Gavin and Stacey success prompts Barry Island road call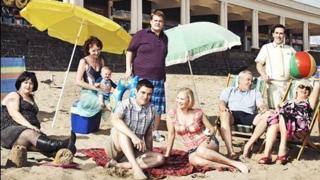 The popularity of Barry Island after the success of sitcom Gavin and Stacey means a relief road to the resort is needed urgently, community leaders say.
A link road from Barry town to its waterfront is planned but it will not be ready for another five years.
Local organisations and councillors say the town has become busier since the BBC show was filmed there and the road is needed sooner.
The developers behind the project say the road is among their priorities.
The planned road will run across the new Barry Waterfront development - which will regenerate docklands with about 2,00 new homes, a hotel, an Asda supermarket, cafe quarter and primary school.
It is designed to alleviate pressure on the current causeway road to Barry Island, which locals say can become very congested during major events, bank holidays and in the summer.
Barry First Group has called for the road work to be speeded up.
Other organisations and councillors have backed the call saying a new road is needed because of the increase in visitors to the town, largely caused by the popularity of the BBC sitcom which was filmed there.
"It's the Gavin and Stacey effect," says Paul Haley, chairman of Pride in Barry - an umbrella group for local organisations - and a member of the Barry regeneration board.
"The popularity of Barry Island has got so great that there are much more visitors coming to the island.
"People are coming from all over the UK - they want to have their photo taken outside Marco's cafe and have a go on the slot machines."
Independent councillor Richard Bertin said he understood the relief road would be built in stages and would not be finished for another five years.
He said under the current proposals, it would be one of the last things to be built as part of the waterfront development.
"But I've said all along that the road should be there before the building starts. We can't wait another five years for it, it is needed now," said Mr Bertin.
"The problem is that on every bank holiday and in the summer you can't move on the causeway road into Barry Island.
"The emergency services have complained that they can't get through and the problem will only get worse."
A spokesman for the development consortium - which consists of three house builders - said the road could take five years to build but it was among the first phase of work planned for the site, along with some homes and the supermarket.
It has said that it is committed to delivering all the "much-needed facilities that the development will bring and in order to do that a phased build period for the road was critical".
Rob Thomas, director of development services at the Vale of Glamorgan council, added: "Work on the road is now being phased over several years."