Kings Monkton School: Cardiff school faces £350k debt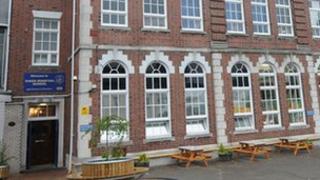 One of the oldest independent schools in Wales is warning that it could close at the end of the summer term if a buyer is not found.
Kings Monkton School in Cardiff, which charges around £8,000 per year for each pupil, has debts of £350,000.
A parents meeting on Thursday night was told the school has only 230 of the 265 pupils it needs to break even.
The school, which has 60 staff, was taken over by a trust four years ago that has invested £750,000 in the site.
Jonathan Greenwood, business services director of CfBT Education Trust and chair of the trustees of Kings Monkton School, said the school was likely to have lost £250,000 over the past 12 months.
He said: "The numbers on roll have not increased in the way that we had hoped they might do when we took over the school four years ago and we are roughly 30 or more children below the level that we need to be at in order to break even."
Mr Greenwood said a letter of support from the trust had allowed the school to continue operating despite its loss making.
He added: "But, for broader economic reasons, and broader reasons within the trust as a whole, the trustees decided in December that they're no longer able to provide that support.
"The current support will end in the middle of October this year, 2013."
'Merger or takeover'
He said the trust would like to explore options such as a merger with another school or a parent or staff-led takeover.
He added: "The worst-case scenario would be that we don't find another interested partner or another school or a group of parents that wish to take it over, and we would be facing closure ultimately because we would not be able to go on trading without being able to cover our costs."
Maria Morgan, a parent at the school, attended Thursday night's meeting.
Speaking on BBC Radio Wales on Friday, she said: "The parents are disappointed and angry because CfBT took on Kings Monkton approximately four years ago.
"They knew that Kings Monkton was an excellent school, a great community, whilst having a struggle in keeping going financially because of the hardened economic times, so they were brought in to provide assistance.
"This assistance doesn't really seem to have been demonstrated over the past four years in terms of increasing student numbers.
"But also, to me, four years seems a very short time to give Kings Monkton a chance."
She added: "At the meeting one of the things the parents requested was maybe that CfBT would consider offering us another year's grace, and parents and staff are trying to arrange a meeting next week to discuss our options."
Kings Monkton School was formed in 1994 from the amalgamation of two schools, Kings College and Monkton House, both of which were established in the 1870s.