Gwent music service: Elitism fears over Newport plan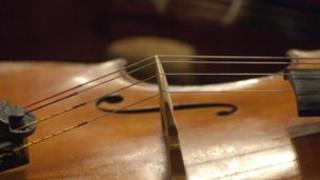 Performers say they fear proposed cuts to a service that helps children learn to play instruments will lead to music becoming elitist.
Newport council plans to reduce the Gwent Music Support Service (GMSS) budget by around 40%.
Young musicians held an impromptu concert outside Newport council offices on Wednesday in protest.
The council said it recognised the value of music but needed to concentrate on frontline education.
GMSS teaches pupils to play instruments, organises orchestras and bands, and provides practice facilities.
The cost is shared between Newport, which contributes £290,000, Torfaen (£220,000) and Monmouthshire (£260,000) councils.
But the service does not have to be provided by law.
Welsh actress Caroline Sheen, who has played stage roles in the West End, told BBC Wales she was concerned about the effect cuts might have on pupils from deprived backgrounds.
"Music is going to become an elitist thing for just the children who can afford it," she said.
"We know there's very deprived areas... where people can't afford it."
She said the service was a big part of her musical education when she was growing up.
"I learned to play the clarinet, to play the violin through the peripatetic teachers who were all brilliant," she said.
'Underprivileged families'
"I had access to instruments I wouldn't have necessarily had access to without them because musical instruments are expensive and there was a way of getting them through the support service.
"I'm really upset that there might be cuts... which have a massive effect on the children."
On Wednesday, about 60 current and former members of the service played music outside Newport council as a protest.
GMSS student Florence Mayo, who has been playing for three years, said she was concerned for her friends.
"Many people who come from underprivileged families will not be able to come along if the cuts are made," she said.
"It will affect many of my friends because many of my friends want to go on through the service to musical lives.
"If the cuts are made, they won't be able to come along any more and it's quite sad actually."
Newport City Council said it was consulting on a number of savings proposals to help tackle a shortfall of more than £8m in next year's budget.
"The proposal relating to Gwent Music Support Services is to remove its funding, not to end the service," said a spokesperson for the council.
Drop in spending
"It aims to help make it become self-sufficient while also finding ways to offer some financial support to less well off students.
"This could include the creation of a local fund supported by the city council, local businesses and parents to ensure that any child who needs a small amount of funding to pursue their interest in music can be helped.
"As with other extra-curricular activities, schools - many of whom have surpluses in their budgets - can opt to 'buy' the service for their pupils."
The local authority is not alone in having to consider these types of cuts in the current economic climate.
BBC Wales research in 2011 indicated there had been a £500,000 drop in spending on school music lessons in Wales since a review was published in 2010.
It found that in some areas parents had to pay for music lessons while they were free in others.
In 2008, Ceredigion council faced protests after cutting back harp lessons
And a host of music stars including Bryn Terfel, Katherine Jenkins and rock band Super Furry Animals wrote to the then First Minister Rhodri Morgan in 2006 urging an end to the "postcode lottery" for music lessons.