Torfaen council start litter fines with XFOR security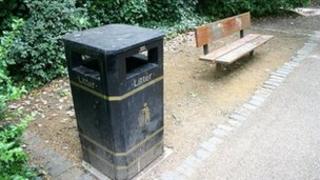 Torfaen council has started a 12-month trial using a private security firm to fine people caught littering or allowing their dogs to foul pavements.
The council says it is determined to tackle the issue which "clearly annoys" residents.
It has hired the same firm used by councils like Blaenau Gwent which in six months to last March issued over 1,000 fines.
XFOR's officers will be able to issue £75 and £50 fixed penalty notices.
"Torfaen council receives hundreds of complaints every year about litter, dog mess and other environmental issues," said Torfaen council leader Bob Wellington.
Appeals
"We hope this trial partnership with XFOR sends out the message loud and clear - we will not tolerate people littering or not clearing up after their dogs."
They will be able to issue fines for anyone who drops litter such as food wrappers and cigarette ends or allows their dog to foul, as well as people who smoke in an enclosed public place.
The council says there will also be an appeals and complaints procedure overseen by council officials.
Blaenau Gwent council said its scheme had made a noticeable difference, but it has not been met with universal approval.
Wardens wear body cameras to record encounters with people for health and safety and evidence reasons.
Conwy, Denbighshire and the Vale of Glamorgan councils have also hired XFOR to patrol the streets to tackle littering.