Pontypool RFC: Lifelong fan pays £100,000 legal bill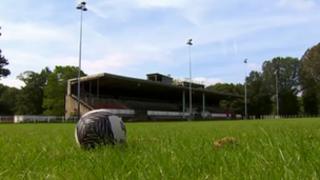 One of Wales' most famous rugby clubs was a week away from folding until a lifelong fan paid a £100,000 legal bill, it has emerged.
Pontypool RFC was left with crippling fees after losing a High Court case against the Welsh Rugby Union (WRU) over its decision to demote the club from the Welsh Premiership.
The argument that they were a victim of an "abuse of power" was thrown out.
But fan Peter Jeffreys' donation has now secured the club's future.
The club, which dates from Victorian times, became famous in the 1970s for its stars Charlie Faulkner, Graham Price and Bobby Windsor, and was immortalised in the Max Boyce song Pontypool Front Row.
When the WRU decided to drop the club from Welsh Premiership to the new National Championship Division, Pontypool challenged the move but the High Court disagreed with their claims.
Following the court case, the WRU said at the time it was putting the matter "firmly behind us" and moving forward.
The club was left with a hefty legal bill though and it has now emerged it was just days away from being wound up.
But thanks to lifelong fan Peter Jeffreys, managing director of Newport-based medical firm Medinet's, Pontypool was saved.
"Over the years I followed them (Pontypool) through thick and thin and that's where I decided to put my cash," Mr Jeffreys said.
"There was still a massive six-figure legal fee to be met and there was no means whatsoever to settle that.
"In addition to that, there was no money to run the club until the end of the season, so apart from the small gate receipts that the club makes, all the other funds had been spent on the legal case with the WRU.
"So it was pretty much a dire situation all round and the club was one week away from being wound up."
Pontypool's president Graham Price is optimistic about the future.
"Possibly in two years' time we'll be there at the top of the table challenging for promotion, and who knows with Welsh rugby?" he said.
"The regional rugby is going through a bit of a poor patch at the moment. You never know they might decide to scrap the lot and then it'll be big time for the clubs again."