Sham marriage: Sharon Creaghan, Naseer Awan sentenced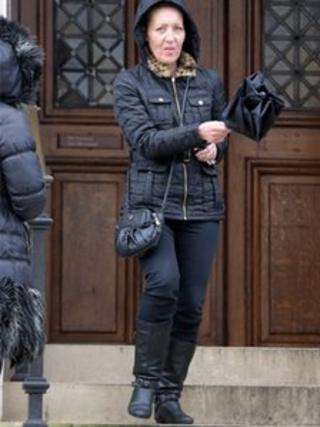 A 45-year-old Cardiff woman whose sham marriage to a foreign student was halted at the register office by Border Agency officials has been given a suspended jail sentence.
Sharon Creaghan a mother-of-three who was paid £1,400 for the wedding, said she needed the money to pay her rent.
At Cardiff Crown Court Creaghan and Naseer Awan, 34, a Pakistani, admitted conspiracy to facilitate the commission of a breach of immigration law.
Awan was jailed for 12 months.
He was told that the Border Agency would then look into him being deported to Pakistan.
Creaghan's 32-week sentence was suspended for 18 months, and she was also ordered to carry out 150 hours unpaid work.
The court heard that Creaghan had not told her teenage children she was about to marry Awan.
Creaghan had a "crib sheet" at home to remember facts and details about the groom's life and family.
Judge David Wynn Morgan told them: "Your actions made a mockery of the immigration procedures and also of the solemn state of marriage.
"This whole business was a sham - it was a disgrace."
John Probert, prosecuting, said officers discovered a marriage had been booked at Cardiff register office in the name of Awan.
"At 11.15am they found the prospective bride and groom and a number of guests," said Mr Probert.
"After short interviews with guests both the bride and groom were arrested.
"Officers went to Creaghan's home and found a crib sheet with information about Awan in a handbag."
The court heard that Creaghan told police the marriage was genuine and she loved Awan.
But when she was shown the crib sheet and a receipt for £1,400 she admitted being paid to marry Awan.
Janet Treharne, for Awan, said he had tried to get permanent residency in the UK through the marriage so his sick nine-year-old son could get treatment on the NHS.