Cancelled Cardiff Castle Christmas party refund investigation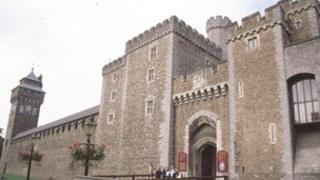 The cancellation of a string of Christmas party nights at Cardiff Castle has led to an inquiry.
Cardiff council trading standards officers are investigating after some would-be party-goers complained they had not been refunded for £55 tickets.
Thousands were promised Parisian-themed events aimed at office parties.
The BBC has been unable to contact organiser Party People Group, whose website says refunds have been made and to allow five working days for payment.
Organisers had promised a night to remember with dinner, dodgems and a disco.
But the parties were cancelled just before the first was to take place earlier this month. Some events had been sold out.
Customers were sent an email by the Party People Group saying that the venue had to be changed because of the weather and that an alternative could not be found.
But the council, which owns the castle, said the company failed to meet contract deadlines after being unable to show it could comply with health, safety and licensing regulations.
Many people who had bought tickets were visitors to the city and had booked hotel rooms, while other groups were left trying to find alternative venues.
The Party People Group promised to process repayments within days and its website apologises for the cancellation "with deep regret"..
Money back
Some people have received refunds via their debit cards. One group had sent cheques which had not been cashed, but others said they were still waiting and had been unable to contact the company.
The council said officers were looking into "potential breaches of consumer legislation".
The council said in a statement: "The trading standards service of Cardiff Council continues to provide advice and assistance to customers of the Party People. We are also investigating the events which have led to the current situation regarding the advertising of and bookings taken for parties at Cardiff Castle."
The spokesman said no events advertised by the Party People were planned to be held at Cardiff Castle and the council advised anyone to exercise caution before booking or trying to book events.
Part-time sales negotiator Andrea Rowsell from Bristol, who had arranged to attend one of the party nights with a group of friends, received a refund "four or five days" after hearing the events were cancelled.
"Everyone [in our group] has had their money," she said.
The group of 21 had already booked a hotel in the city so made alternate plans for a night out in the city.
"It was OK but it wasn't what we had planned," she said.