Real Crisps fire: More jobs lost from Crumlin workforce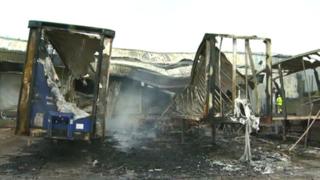 A further 10 staff from the workforce of a fire-hit crisp factory in south Wales are to go, leaving just 30 of the Real Crisps team with jobs.
The factory at Crumlin in Caerphilly county borough was virtually destroyed by the blaze in September.
The company's owners, Tayto Group, were forced to make 80 of the 120 staff redundant in October.
A decision on when and if the plant will be rebuilt is still under discussion.
The Tayto Groups head, Paul Allen, said the 10 staff leaving the firm had been travelling to other production sites in the UK to work "but no longer wish to continue to do this".
"They stayed to help with the busiest time of year, but understandably want to find employment closer to home, to be near to their families," said Mr Allen.
""We were very grateful that no one was hurt in this fire, but it is really devastating for the people who have been made redundant, especially coming up to Christmas.
"We have tried to keep on as many of our employees as possible, some are travelling across to do shifts at our premises in Northern Ireland and others are still working locally.
"We have guaranteed work for all of these remaining employees, for the foreseeable future."
The company's chief executive said offices were being rented near the fire-damaged site, in a bid to keep the remaining team members together.
'Bespoke machinery'
He said the process of deciding on the future of the Crumlin plant was a "a long and complicated process".
"The machinery we need is bespoke and takes months to make, but we have begun the process of travelling to suppliers, who are based around the world, to see what is available and what the latest technical developments are," he added.
"Likewise we need a building with very exacting requirements. We also need to ensure that whatever we end up with, will be suitable for many years to come, so also have to look at how any plans fit in with all of our sites and our future strategy."
The company has also paid tribute to the staff, following the blaze.
"The staff have been remarkable. This fire was entirely unnecessary and has had a huge impact on many families, not just among our own employees, but further afield," said Mr Allen.
"We know that several of our suppliers, including our distributors have also had to lay people off as a result of the fire.
"Many staff have been travelling across each weekend to work at our factory in Northern Ireland, which has been enormously helpful in making sure we could cope with our busiest season."
A 30-year-old man from Abertillery is currently awaiting trial charged with arson with intent to endanger life in relation to the fire at the plant.