Aamir Siddiqi murder: Jason Richards denies blood link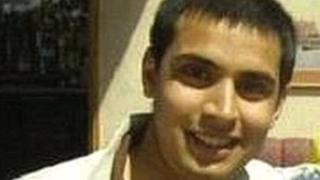 A man accused of killing Cardiff student Aamir Siddiqi says he cannot explain how the teenager's blood came to be found on one of his shirts.
Jason Richards, 38, denied the blood was on his clothing because he had stabbed Aamir at his Cardiff home and said he was "no part of it".
Mr Richards and Ben Hope, 39, deny murdering Aamir, 17, in a bungled contract killing.
They also deny attempted murder of his parents, at Swansea Crown Court.
Under cross-examination on Thursday, Mr Richards told the court: "I honestly do not know how Aamir Siddiqi's blood has ended up on one of the pieces of my clothing.
"It had a speck of blood - I still cannot give you an answer as to how it got there."
Mr Richards denied the blood was on his clothing because he had carried out the murder.
He said "I've never killed no-one in my life and I did not commit this murder."
Gesturing towards members of Aamir's family in the court, he said "I've waited three years to have my say. I never killed their son. I was no part of it."
Patrick Harrington QC, prosecuting, questioned Mr Richards about how he must have felt when he found out Mr Hope had been arrested and was blaming him for the attack.
Mr Harrington asked: "It is outrageous is it not? A pal of yours, a druggy friend of yours, blaming you for something you have not done. You must have been appalled?"
Mr Richards replied that it was "unbelievable".
Referring to the fact that Mr Richards did not tell police what he was now telling the court, Mr Harrington said: "What I am going to suggest Mr Richards is that you did not give the account you now give because it is a lot of lies."
He also asked Mr Richards whether he had waited to see what the case was before tailoring his defence.
Mr Richards denied this was the case.
Mr Harrington also pointed out that both Mr Richards and Mr Hope had changed their shoes during the afternoon of the day in question.
'Normal day'
He asked Mr Richards where the shoes were that he had been wearing on the morning of 11 April 2010.
Mr Richards replied: "I have asked people to look for them. I do not know where those shoes are."
Mr Richards was also questioned about why he chose to spend part of the afternoon with his co-accused, who Mr Richards maintains came to his home in blood-stained clothing.
David Aubrey QC, defending Mr Hope, asked Mr Richards why he had checked a lottery ticket the afternoon that he said he saw Mr Hope with blood-stained clothing.
Mr Richards replied: "To me it was a normal day."
Mr Aubrey said: "It was anything but a normal day - your friend had come back covered in blood and told you 'it is best you do not know what has gone on'."
The court has heard that just before he died, Aamir had been upstairs in his bedroom awaiting the arrival of an imam for a Koran lesson.
He came downstairs on hearing the doorbell and was attacked as he opened the door of the family home in Roath.
Aamir's father Iqbal Ahmad told how he and his wife, Parveen, were also injured while trying to fight off two attackers.
The trial continues.