Cardiff Bay 798 homes and cantilever towers plan backed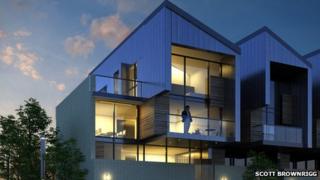 Plans for 798 homes on the Cardiff Bay waterfront, including two "cantilever" tower blocks, have been approved by city planners.
The Cardiff Pointe development will be based around the city's International Sports village.
Councillors approved four linked schemes, the largest being for 392 apartments and 169 houses, with others off Ferry Road and Watkiss Way.
The developers are also building a winter sports arena at Cardiff Bay.
A subsidiary of Wigan-based Greenbank Partnerships was named in January as the successful bidder for the snow sports complex tender as part of the council's landmark sports village project.
Greenbanks describes the latest proposals approved at a planning meeting on Wednesday night as an "ambitious residential scheme" on the 14 acre (5.6 hectares) it owns on the peninsula next to the sports Village.
Another subsidiary, Figurehead Homes, will develop the scheme, called Cardiff Pointe.
It will have a 23 storey and a 27 storey tower as the centrepiece along with 10 five-bedroom "executive" houses next to Cardiff Bay Yacht Club.
Figurehead director Jonathan Smith said: "We are delighted that Cardiff Council has resolved to approve the development and the regeneration of this part of Cardiff.
"We hope Cardiff Pointe will provide an exemplar residential development. Not only one that reflects Cardiff's current status as a capital city and a capital of culture, but also one that will hopefully set a blueprint for future development in the city.
"We believe that Cardiff should aspire to world-class and environmentally friendly residential design, and that high-quality design and living accommodation should be readily accessible.
"Cardiff Pointe will provide a sustainable community offering a broad range of accommodation to suit all."
A report to Wednesday night's meeting said the rest of the development is "characterised by three-to-four storey terraces of houses and taller five-to-six storey apartment blocks".
The second of the applications will see 79 homes, including 43 apartments and 36 houses, built off Ferry Road, while another on the same road will see 63 apartments built on land behind the Morrisons supermarket.
A fourth application is for 95 apartments on land off Watkiss Way.
The meeting was told the residential schemes would be built in six phases, with town houses and maisonettes the focus of the early stages.
The executive homes and the two towers will be later stages.
The proposals are unrelated to £500m plans for a 33-storey tower known as Bay Pointe which were scrapped in 2009 after falling victim to the credit crunch.