Cardiff Airport's history from Spitfires to jumbo jets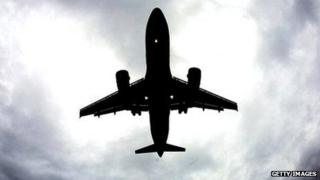 Cardiff Airport is set to land back in the hands of the public sector in the latest chapter of more than 80 years of aviation for the Welsh capital.
The Welsh government has announced that it plans to buy the airport from TBI, which is now owned mainly by the Spanish company Abertis.
The city has had an airport to call its own since 1931, and until 1954 air travellers flew from the original site at Pengam Moors, on the eastern side of the city.
The foundations of the current airport - some 15 miles from the city centre in the neighbouring Vale of Glamorgan - were laid in World War II with the need to train Spitfire pilots.
Bulldozers began clearing the site at Rhoose in 1941, and the airfield went fully operational in April 1942 as a satellite of RAF Llandow.
Commercial value
Its commercial value was recognised in the following years when the main runway was opened in 1952 to accommodate the Aer Lingus service to Dublin.
By 1962, the charter holiday business had increased passengers numbers to 100,000 a year.
Three years later, the government handed the keys over to the then Glamorgan County Council.
Prince Philip opened the airport's new terminal building in 1972. The development included a control tower and the runway was doubled in length to cater for larger, wider, passenger jets on transatlantic runs.
As the range of charter flights grew, passenger numbers for these services passed 250,000 in the early 1980s.
In 1986 a further 750ft was added to the runway, allowing it to handle Boeing 747 jumbo jets.
Passenger numbers for scheduled flights from the airport reached 100,000 per year in 1990 and overall passenger numbers at the airport were approaching 750,000 a year in 1993.
Cardiff Airport was privatised in April 1995. Its passenger numbers peaked at 2.7m in 2007.
The airport currently handles around 1.5m passengers a year travelling to and from more than 20 destinations.