Caerphilly council staff walk out over chief's pay rise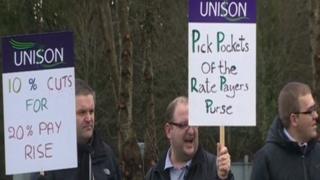 About 600 staff at Caerphilly council have staged a lunchtime walkout in protest at pay rises for top officials, says the public sector union Unison.
Monday's main demonstration was at the Ystrad Mynach headquarters, but there were protests at other offices.
The union criticised the decision of a £27,000 pay rise to Anthony O'Sullivan.
After the protest the council said it had nothing new to say, but previously it has said that five members had agreed the rise at a meeting.
More action is planned at the Labour group meeting on Tuesday.
Gary Enright, the Unison Caerphilly branch secretary, told the protest gathering: "Today we have clearly demonstrated our anger about the chief executive's mammoth pay rise and that we are not prepared to simply accept the situation.
"Our clear and united message to Caerphilly council is we demand fairness for all and we will accept nothing less than a rescinding of this unequal and divisive decision."
'Transparency'
Council chief executive Anthony O'Sullivan's pay grade increased from a maximum of £131,000 to £158,000 last week.
The council said last week five members agreed the rise at a meeting, minutes were presented to full council without complaint, and the pay met an independent external scheme.
A spokesperson said last week: "This cross-party committee made a decision on the matter on 5 September, and in the interests of transparency, the minutes of the meeting were presented at the earliest opportunity to all members at full council on 9 October.
"The minutes were accepted and no issues or concerns were raised by members at the time."