Rumney Recreation Ground, Cardiff, victory marked by memorial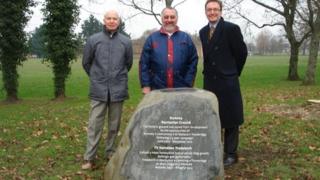 A successful five-year campaign to save a Cardiff parkland from development has been marked with a monument.
A large granite stone, bearing an inscription to the communities of east Cardiff who campaigned to save Rumney Recreation Ground, has been unveiled.
A second plaque will mark the ground's designation as a park protected for the Queen's Diamond Jubilee.
Campaigner Don Taylor said the engraved boulder showed the park "will be there for ever and a day".
Mr Taylor is the chair of the Rumney Recreation and Eastern Leisure (Rreel) Action Group, which campaigned to save the parkland from being used for a new secondary school.
Cardiff council had originally wanted to build a 1,500-pupil school for 11-16-year-olds on the site.
'Kick up a stink'
But in September 2011, after an 8,000-name petition was collected against the £22m plan, the authority dropped the scheme in favour of an existing Rumney School site.
Mr Taylor said the action group had paid more than £4,000 for the boulder to be put up at Rumney Recreation ground.
"It's marking the fact that we won. It's so important to the people of East Cardiff - to the communities of Rumney, Llanrumney, Trowbridge and St Mellons because it shows that you can't just do anything - because somebody will kick up a stink.
"The ground cannot be built on ever and it's there for everybody to enjoy - it's an asset to the city."
The lord mayor of Cardiff and a number of other dignitaries attended the unveiling, which also celebrated the ground's designation as a Fields in Trust (Fit) Queen Elizabeth II Playing Field to mark the diamond jubilee year.
Rumney Recreation was one of four Cardiff parks - with Roath and Ely recreation grounds and Pontcanna Fields - nominated for the special protection in March.
The Fields in Trust (Fit) charity aims to safeguard parks by placing covenants on the land.
The initiative aims to encourage local authorities to dedicate playing fields, parks, children's play areas and woodland to ensure long-term protection and to provide a legacy for the jubilee.
Cardiff council intends to enter into a deed of dedication with Fit which would hold the four sites in trust status for at least 100 years.