Aamir Siddiqi murder: Jason Richards says taxi driver told him of killing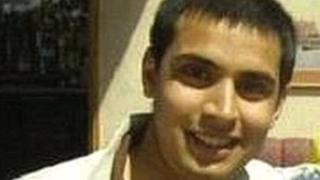 An alleged hitman accused of killing a teenager by mistake claims he heard about the murder from a taxi driver.
Jason Richards told Swansea Crown Court it was the first he knew of the brutal stabbing of student Aamir Siddiqi on the doorstep of his home on Ninian Road, Cardiff.
Mr Richards, 38, and Ben Hope deny murdering the 17-year-old in a bungled contract killing.
The pair also deny the attempted murder of Aamir's parents.
Mr Richards told the jury he took a taxi from St Mary Street to North Road hours after the student was murdered.
"I learnt a bit about what went on that day when I was in the taxi from the taxi driver," he said.
"The taxi driver said something serious had happened down Roath Park area."
Father-of-two Mr Richards said the taxi driver said the area had been "blocked off, sealed off and there were armed police" present.
He previously told the court he was at his home in North Road at the time of the killing, and records show his mobile phone was on that street at the relevant time.
He claimed to have seen blood on the clothing of his co-accused, Mr Hope, shortly after Aamir was murdered.
Mr Richards said he asked Mr Hope what had happened and claimed he replied: "The less I know, the better."
'Paranoid'
On Friday, John Charles Rees QC, defending Mr Richards, asked why he went to Mr Hope's home in Janner House, Richmond Road, in the hours after the murder.
Mr Richards replied: "If you smoke crack cocaine you get paranoid. I just wanted to know if Ben was involved with what happened down there."
He told the court that Mr Hope would not tell him anything.
CCTV footage showing Mr Richards, carrying a newspaper in his back pocket, going to Mr Hope's address the morning after Aamir was killed was shown to the jury.
Mr Richards said it was the Metro newspaper and it had been handed to him.
Mr Rees asked why Mr Richards did not have the paper when he left Mr Hope's home more than 30 minutes later.
Mr Richards replied he had left without reading it.
He also told the court that he was not responsible for a discarded Footlocker bag which was recovered by police.
Mr Richards also told the court he "used to keep a lot of cash" on him, which he said came from a personal injury claim and earnings from drugs.
Mr Rees asked Mr Richards why he spoke with Mr Hope on the phone just half an hour after going their separate ways in Cardiff the day after Aamir was killed.
"I think he was asking if I was going to bring anything over to him," said Mr Richards, referring to drugs.
Mr Richards said he "had given up" trying to find out from Mr Hope any information about the previous day.
Mr Rees said to him: "You thought something serious must have happened ... the jury might want to know why you were still meeting up with him, speaking with him."
Mr Richards replied: "I think it was just because I was in the drug world."
The court had previously been told that Mr Richards began taking drugs at the age of 16 and had a string of convictions for violence.
A-level student Aamir was stabbed to death in the doorway of his Roath Park home in April 2010.
The prosecution claims Mr Richards and Mr Hope had been paid by a businessman, angry because a property deal had collapsed, to kill his chosen victim.
But the pair were said to have gone by mistake to the Siddiqi family home around the corner in Ninian Road instead, showing "staggering incompetence".
Aamir had been upstairs in his bedroom awaiting the arrival of the imam for a Koran lesson, the court heard.
He came downstairs on hearing the doorbell and was attacked as he opened the door.
Aamir's father Iqbal Ahmad told how he and his wife, Parveen, were also injured while trying to fight off the attackers.
The trial continues.