Caerphilly leisure centre plan backed by council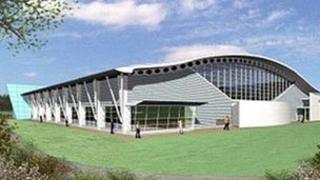 A new £10.5m leisure centre is set to be built in Caerphilly after councillors agreed to the development in principle.
The centre would form part of a new Welsh-medium school on the site of the former St Ilan School.
Caerphilly council's cabinet backed the plans at a meeting and a report has been ordered into the funding options.
The town's existing leisure centre is more than 40 years old and maintenance costs have been put at £934,000.
Plans for the new centre include a swimming pool, an all-weather surface, a running track and tennis courts or a multi-use games area.
David Poole, council cabinet member for community and leisure services, said: "I fully welcome the proposals to provide the Caerphilly basin with a brand new, modern and fully equipped leisure centre.
"With this facility we can continue our commitment to ensuring all residents of the county borough have the opportunity to access the best amenities possible so that they can lead healthy and active lives."
Mr Poole said around £3m for the scheme could be drawn from the 21st Century Schools programme, subject to Welsh government approval, leaving £7.5m to be funded by borrowing.