Asbos for ex-Rhondda pair Paul Chaplin and Julie Smith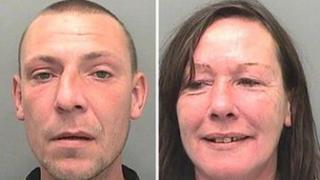 Tough action has been promised against neighbours causing upset after claims that a couple "terrorised" residents.
Paul Chaplin, 36, and Julie Smith, 47, formerly of Tonypandy, Rhondda, were alleged to have carried out an "almost-daily tirade of abuse".
Pontypridd magistrates issued anti-social behaviour orders (Asbos), and council officials called the actions of the couple "absolutely disgraceful".
Police and council officers brought the case, which involved 58 allegations.
Rhondda Cynon Taf Community Safety Partnership said the case showed it was committed to protecting communities from anti-social behaviour.
Among the allegations, in one incident a disabled man was alleged to have been spat on and in another an elderly war veteran was said to have been on the receiving end of verbal abuse, including being shouted at with Nazi slogans.
On Thursday, the council issued a statement saying officers presented a catalogue of evidence to the court hearing last week alleging "unacceptable behaviour" at the couple's former home in Park Street, Tonypandy.
There were a total of 26 alleged incidents against Smith between April and September 2012. They included verbally abusing neighbours, being in a drunken state and acting in a disorderly manner, stealing shop goods, being found unconscious outside a takeaway in Tonypandy, and playing loud music from her home.
Chaplin faced 32 allegations of acts of anti-social behaviour between March and July, including being found drunk and unconscious in various public places, verbally abusing shop staff, playing loud music and being involved in domestic arguments from his address.
The Asbos, which last two years, are that the pair must not be in a public place while drunk, use verbally abusive or threatening language or behaviour towards anyone and they cannot play music that causes a noise nuisance.
'Absolutely disgraceful'
Failure to obey with the orders could result in a fine or being sent to prison for up to five years.
Smith, also known as Julie Tranter, and her partner, who now live in Llantwit Fardre, were both represented in court, which acknowledged their efforts in reducing alcohol consumption and turning their lives around, said a council statement.
Phil Bevan, the council's head of community safety, said: "This was an unusual case in that it involved a couple whose behaviour towards each other and other members of the community was absolutely disgraceful.
"For a sustained period of time, there was an almost daily tirade of abuse, shouting, swearing, screaming and other unacceptable or intimidating behaviours coming from the pair.
"The community safety partnership has secured every asbo it has ever requested, which is testament to the fact we only seek such sanctions when they are necessary and the most appropriate course of action.
"We hope this serves as a reassurance to the community and commend those who worked with us on this particular case, as they have experienced significant upset and distress at the hands of this couple."