Discovering Britain: Rhondda, Cynon valleys walk retraced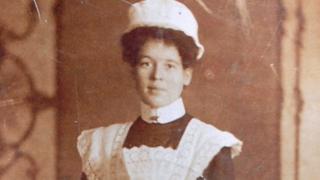 A woman has returned from Australia to retrace her grandmother's walk between two south Wales valleys and help create a new heritage trail by the Royal Geographical Society.
The first walk in Wales has been launched by the society and the Institute of British Geographers as part of the Discovering Britain Project.
Using free downloadable guides, the geographically-themed walks aim to tell the story of how nature, people and events have all shaped the landscape of the places we live.
The walk between Ferndale in the Rhondda Valley and Penrhiwceiber in the Cynon Valley is the first of a number of planned walks created for Wales, and across the UK it is aiming to establish at least 100 trails.
While the landscape is the focus of these audio guides, this Discovering Britain walk also tells the story of Emily Roberts, who grew up in Penrhiwceiber and moved to Ferndale after she married.
The audio trail was created with the help of her granddaughter, Dr Jennifer Lewis, and is based on the six-mile journey Emily made between the two valleys to visit her family.
Dr Lewis said that after moving to Ferndale, Emily was homesick: "Her husband was on shift work and she missed her big family.
"So she liked to walk over the valley, especially to her mother's house, sometimes just to have dinner. After she had her baby, she would carry him in a shawl too."
Like her grandmother, Dr Lewis grew up in the Cynon Valley. She later moved to Australia but is regularly drawn back to the area to recreate the walk her grandmother Emily knew so well.
"To walk in her footsteps takes me right back because I knew her [Emily] quite well. I have many beautiful family memories that are triggered off by this walk," she said.
Dr Lewis said she wanted to use the project to give a snapshot of one woman in one particular place doing something that was ordinary to her.
"The valleys are traditionally male defined-areas. This story is about a Welsh valley woman. But what's interesting for me is that this journey for Emily was unremarkable: it was just something that she had to do to see her family."
Coal was struck in Ferndale in 1862 and by the time Emily moved there in 1910, extraction of "black gold" had peaked. In 1913 almost 10 million tons was mined across the Rhondda. Three large collieries operated in Ferndale employing 5,600 men, while a number of medium-sized collieries each employed more than 1,000 men.
But less than a century earlier the Rhondda and Cynon valleys would have been unrecognisable to the people who lived there at the peak of the coal mining industry.
When Thomas Roscoe, a writer of major topographical works visited the Rhondda in 1836 he was so impressed with its beauty he wrote: "I had now entered into the wild and mountainous region, where nature seemed to reign in stern and unbroken silence. Not a human being besides myself appeared to be treading these solitudes, nor was there habitation to be seen".
Brian Davies, the curator of Pontypridd Museum, said lively communities sprang up quickly after coal was discovered.
"Most families who lived in these valleys 100 years ago were first generation migrants. They would come in from farming areas in rural Wales, they'd come from the west of England and even further afield. The population in both valleys back then was at least double what it is today."
Today the landscape in both valleys has changed again. Dr Jenny Lunn from the Royal Geographical Society said a great deal of the changes were the result of regeneration.
"After the mines were closed in the 1980s, surface colliery sites were demolished and the land reclaimed," said Dr Lunn.
"The playing fields in these valleys were once the site of the colliery and its waste tip. In other places you might find light industrial estates or other landscaped areas that the community can use."
She hopes the walks will help inspire people to find out more about their local areas.
"Each one of these landscapes has got a story. The Discovering Britain audio guides will explain that story - past and present - to you as you walk through it."
The audio guide for the walk between Ferndale and Penrhiwceiber, which has been extended to seven and a half miles, can be downloaded free from the Discovering Britain website.