Rhondda water supply back in 300 homes after three days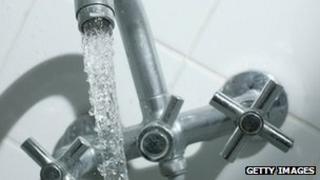 The final 300 homes in Rhondda left without water after a mains burst have finally had their supply restored after three days.
Hundreds of homes began Sunday with no water for a third day in a row after a major pipe burst.
Some 7,000 properties were originally left without supplies when the burst happened on Thursday.
Welsh Water said engineers worked overnight on Friday and Saturday as it delivered free bottled water to homes.
Welsh Water again apologised and said it was "exceptionally sorry".
Supplies were first lost on Friday after the pipe burst in Pontypridd, which was blamed by Welsh Water on ground moving after heavy rain.
As well as about 7,000 properties which initially lost their water, 11 schools were forced to close.
The total without supplies was reduced to 2,000 by Saturday, then to 1,200 on Sunday morning, and 300 by Sunday afternoon.
The Welsh Water helpline is 0800 052 0130.