Rhondda water: 300 without supply for third day in row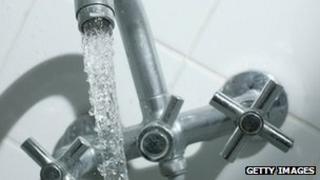 Hundreds of homes in Rhondda have gone without water for a third day in a row after a major pipe burst.
Welsh Water says about 300 properties remained without supplies on Sunday afternoon, although that has fallen from an initial 7,000 on Friday.
The company said it worked through Saturday night to fix the problem, and it has been delivering free bottled water to affected homes.
Welsh Water again apologised and said it was "exceptionally sorry".
Supplies were first lost on Friday after the pipe burst in Pontypridd, which was blamed by Welsh Water on ground moving after heavy rain.
About 7,000 properties initially lost their water, and 11 schools were forced to close.
The total without supplies was reduced to 2,000 by Saturday, then to 1,200 on Sunday morning, and 300 by Sunday afternoon.
Welsh Water spokesperson Kevin Bateman said: "We've now managed to restore water supplies to Blaenclydach and parts of Clydach Vale.
"We are still working to restore supplies to the last 300 properties in Clydach Vale that are still without water.
"We will be continuing to supply more bottled water to these 300 households and will keep deliveries going until all their water supplies are fully restored."
He urged vulnerable customers or families with young children to continue to contact the firm if they have any extra needs.
"We are exceptionally sorry for the inconvenience this significant interruption has caused to our customers."
The Welsh Water helpline is 0800 052 0130.