Newport Tesco: Police appeal over retail park bin fire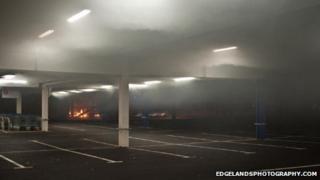 Police are appealing for witnesses after a fire in a bin storage area led to a large Tesco store being evacuated.
Three fire crews dealt with the blaze in an outbuilding in the car park at the second largest Tesco in Wales on Newport Retail Park on Saturday night.
No-one was injured, and there was no damage to the store, but it was cleared of customers as a precaution while the blaze was put out.
Gwent Police said they were treating the fire as "malicious".
Debbie Woodley, from Earlswood, Monmouthshire, was in the store when smoke began coming in and the alarm was raised.
She said: "A member of staff burst through some double doors and the alarms started ringing. He was saying, 'it's not a test, it's not a test'.
"Then the message came over the loudspeakers that all customers needed to get out of the store."
By the time she had made her way back to the car, thick black smoke was billowing from the bin compound and out from under the roof of the car park some 50m (165ft) from the store, she said.
She said: "The smoke was absolutely everywhere and it smelt of burning rubber.
"You could see the flames from the opposite side of the car park."
'Necessary to evacuate'
The crews, all from Newport, put the blaze out within half of hour of the alarm being raised at around 18:20 GMT, South Wales Fire and Rescue Service said.
Insp Robert Doidge of Gwent Police said the store was evacuated as smoke from the blaze in a compound measuring about 10m (33ft) square reached the main building.
He said: "It was quite apparent that it was a small fire in an adjacent bin store. There was smoke from the location going into the store.
"After liaising with staff at the store, it was deemed necessary to evacuate for a short time. No persons were injured.
"There are indications that it was a malicious ignition at the location of the fire.
"Any person with any information or knowledge of what occurred is urged to contact Gwent Police."
A Tesco spokesperson said: "Our Tesco Extra store at Spytty was closed briefly following a small fire in the underground car park.
"No-one was injured and the store reopened after about an hour.
"The police are now investigating the cause of the fire, and we are helping with their investigation."