Simon Richardson: Paralympic cyclist sues drink-driver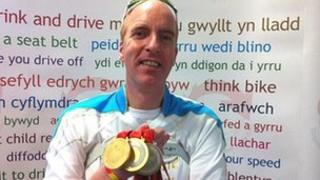 Paralympic cyclist Simon Richardson is seeking damages against the drink-driver who knocked him off his bike and left him seriously injured.
Mr Richardson, 46, missed the London Paralympics after farmer Edward Howell Adams ran into him on the A48 near Bridgend in August 2011.
The cyclist, who was on a training run, spent almost a month in hospital and still needs to use a wheelchair.
He has lodged a claim for unlimited damages at the High Court.
In August Adams, 60, of Cowbridge, Vale of Glamorgan, was jailed for 18 months and banned from driving for five years after he was convicted of dangerous driving and of failing to stop.
Cardiff Crown Court was told that Adams had stopped briefly, but drove off after he noticed another motorist had stopped to offer the cyclist assistance.
First whisky at 6am
The court heard that Adams had been drinking the night before the crash and drank his first whisky at 6am when he woke up.
The collision was at about 9.40am, and when Adams was breathalysed just after midday, he was more than twice the drink-drive limit.
His trial was also told that Adams had bad eyesight and should not have been driving.
Mr Richardson had been left permanently disabled in 2001 when he was involved in a serious crash with a car while out with friends from a cycling club.
He continued cycling to help with his rehabilitation, and won two golds and a silver at the 2008 Beijing Paralympics.
Mr Richardson had hoped to compete again at London 2012, but his new injuries made that impossible.
He will go to Stoke Mandeville Hospital for three months in February for intense physiotherapy.
Last week Mr Richardson was at the launch of the Christmas drink-drive campaign by all four Wales police forces and Road Safety Wales.
He suggested at that event that culprits should be publicly named and shamed with, for example, their pictures put on the back of buses.
His High Court claim is against Adams and his insurers.