Rhondda water: Supplies back for 5,000 after pipe burst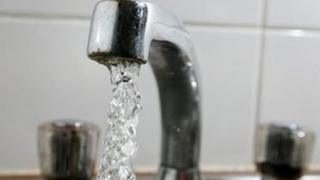 Water supplies have been returned to 5,000 properties in Rhondda so far after a major pipe burst.
But by mid-Saturday afternoon, a further 2,000 customers were still without water for a second day.
Welsh Water say users with supplies will notice some discolouration, but the company called that "safe and normal," and it should clear shortly.
Supplies are due to return to Clydach Vale and Llwyncelyn later on Saturday as water pressure is increased.
About 7,000 customers in these areas, as well as Llwynypia, Trealaw, Penygraig, Tonypandy and Porth lost their water on Friday, and 11 schools were forced to close.
Welsh Water apologised for the "significant inconvenience".
Company spokesman Kevin Bateman said: "We are doing everything we possibly can to restore all water supplies as quickly as possible.
"Whilst central heating systems should not be affected by this incident, we are continuing to monitor the network closely as it returns to normal operations.
"We apologise to customers for the inconvenience this significant interruption has caused."
The company said more than 100 people worked into Friday night to ensure that supplies were returned.
Peter Perry, executive director of operations, said engineers had been working overnight in temperatures as low as -5C (23F) to carry out major repairs on the main water supply.
He said: "This year, with the saturated ground conditions, we're getting ground movement.
"Normally we repair about 50 burst mains a day. We're currently doing 70, so we've seen about a 35% increase in bursts right across Wales.
"With the drop in temperatures, that is not going to help.
"I do apologise to all our customers in the areas affected. This hasn't gone as quickly or as smoothly as we would have liked, but it was a very complex repair.
"We're now on top of that and throughout this morning we will be refilling the system, getting people back in."
Craig Middle, a councillor in Tonypandy, said people had not been given any warning that their water would be off for an extended period but were "getting on with it".
He said on Saturday morning: "First of all we were told [it would be] between six and 12 hours and obviously it's been over 24 hours now.
"My water is still off and it's not being able to flush the toilet that's the issue at the minute. Drinking water is not so much of a problem, it's the daily routines."
Welsh Water has set up seven points in the area where bottled water is distributed.
Any customer with queries or concerns can call the Welsh Water helpline is 0800 052 0130.