Blaentillery Primary parents march to save school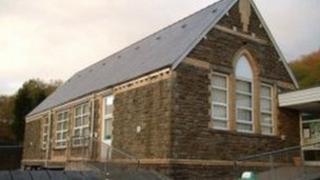 Parents are taking to the streets in protest at proposals which could see the closure of their children's primary school.
Under Blaenau Gwent council plans for informal consultation, Blaentillery Primary in Cwmtillery could close in August 2014, with its 64 pupils sent to school in neighbouring Abertillery.
The council says it must tackle surplus pupil places in the county.
But parents say the school is the last remaining focus for the community.
Blaentillery is one of three primary schools in the Ebbw valleys that have been earmarked for potential closure, alongside Briery Hill and Rhos y Fedwen in the Ebbw Fawr valley.
In its 21st Century Schools document published in October, the council argues that it needs to address the issue of empty school places, which exceeds 25% in some areas.
Blaentillery has capacity for 127 pupils, but the council projects that by 2016 it will only have 67 children in classes - a surplus spaces rate of 47%.
But that is disputed by the school's chair of governors, Glyn Smith, who said they already expected a further 15 new pupils to start in nursery classes next year.
'Totally amazed'
Mr Smith said parents wanted the choice to send their children to Blaentillery.
"They are most concerned that if the school goes, the community goes," he said.
"Life here revolves around the school. I am totally amazed by the enthusiasm of the parents and governors here to save the school."
Parents opposed to possible closure say they will march on Monday from Foundry Bridge in Abertillery to the Metropole Theatre, where a consultation meeting is being held.
But Blaenau Gwent council has said "doing nothing" is not an option.
"There is an argument that a larger primary school would maximise curriculum opportunities for pupils and ensure there are enough staff to specialise in certain aspects of the curriculum," the council said in its consultation document.
Under its plans, pupils would be transferred to Abertillery Primary at the start of the autumn term in 2014, where the school can accommodate up to 429 children.
The council also hopes that a new school would also be built on the site of Abertillery primary by 2016.